Opposing Sides Dip
1 (16-ounce) can Great Northern beans, drained
1/2 cup chopped onion, divided
3 tablespoons grated Parmesan cheese
1/2 teaspoon salt, divided
1/2 teaspoon black pepper, divided
2 small garlic cloves, divided
1 (15-ounce) can black beans, drained
1 (4.5-ounce) can chopped green chiles, drained
1/4 teaspoon ground cumin
1/2 cup (2 ounces) finely shredded reduced-fat cheddar cheese
1/4 cup sliced green onion tops
Garlic Pita Chips
Preparation
Combine the Great Northern beans, 1/4 cup chopped onion, Parmesan cheese, 1/4 teaspoon salt, 1/4 teaspoon pepper, and 1 garlic clove in a food processor; process until smooth. Spoon white bean mixture into a bowl on one side; set aside.
Combine the black beans, 1/4 cup chopped onion, 1/4 teaspoon salt, 1/4 teaspoon pepper, 1 garlic clove, chiles, and cumin in a food processor; process until smooth. Spoon black bean mixture into other side of bowl containing white bean mixture.
Sprinkle cheddar cheese and green onions between 2 bean dips. Serve with Garlic Pita Chips.
Yield:
12 servings (serving size: about 3 tablespoons dip and 4 chips)
Nutritional Information
Calories 179
Calories fromfat 13 %
Fat 2.5 g
Sat fat 1 g
Monofat 0.3 g
Polyfat 0.4 g
Protein 7.8 g
Carbohydrate 29.9 g
Fiber 5.4 g
Cholesterol 4 mg
Iron 2.2 mg
Sodium 272 mg
Calcium 111 mg
Recipe and Photo Credited to Cooking Light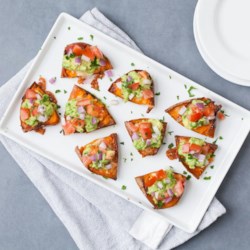 Sweet Potato Skins with Guacamole
Ingredients
Potato Skins
4 small sweet potatoes
1 tablespoon extra-virgin olive oil
⅛ teaspoon kosher salt
½ cup shredded Cheddar cheese
Guacamole & Toppings
1 ripe avocado

1 tablespoon lime juice
1 clove garlic, minced
⅛ teaspoon salt
¼ cup chopped tomato
2 tablespoons minced red onion
Chopped cilantro for garnish
Directions
Preheat oven to 400°F.
Tightly wrap sweet potatoes in foil and place on a baking sheet. Roast until very tender, 50 minutes to 1 hour. Carefully unwrap and set aside to cool.

3

Line a baking sheet with parchment paper.
Cut the potatoes in half lengthwise and scoop out the flesh, leaving a ¼-inch border (save the scooped-out flesh for another use). Place the sweet potato halves skin-side up on the prepared baking sheet. Brush with oil and sprinkle with kosher salt. Bake until browned and crisp, 20 to 30 minutes.
Cut each skin in half widthwise and return to the baking sheet, skin-side down. Sprinkle each with 1 tablespoon Cheddar. Return to the oven and bake until the cheese is melted, 8 to 10 minutes.
Meanwhile, make the guacamole: Mash avocado in a medium bowl. Stir in lime juice, garlic and salt.
Top each sweet potato skin with guacamole, tomato, onion and cilantro, if desired.
Serving size: 2 potato skins each
Per serving: 117 calories; 8 g fat(2 g sat); 3 g fiber; 10 g carbohydrates; 3 g protein; 26 mcg folate; 7 mg cholesterol; 3 g sugars; 0 g added sugars; 6,370 IU vitamin A; 10 mg vitamin C; 65 mg calcium; 0 mg iron; 113 mg sodium; 302 mg potassium
Recipe and Photo Credited to Eating Well
Todd's Famous Vegan Pumpkin, Chipotle, Black Bean Chili
Ingredients
3 Cans 15 oz Black Beans (Drained and Rinsed)
1 15oz Can Fire Roasted Diced Tomatoes
3 Cloves of Garlic small diced
1 Red Onion chopped
1 Lime
1 15 oz Can of Pumpkin
1 TSP of Ground Cumin
1 TSP of Ground Thyme
1 – 2 TSP of Chipotle Powder (depending on your heat preference)
2 TSP of Olive Oil
1 Bunch of Cilantro chopped
Tortilla Chips
1 Large Avocado small cubes
Salt and Pepper
Directions
In a food processor or blender mix the diced tomatoes, 1 can of black beans, chiptole powder, cumin, and thyme till smooth.
In a large size pot, heat the olive oil over medium heat. When hot, place half of the red onion in the pot and saute 2-3 minutes, add garlic. Saute an additional minute.
Place the blended black bean mixture with the remaining cans of black beans, and can of pumpkin into the pot. Cook for 8-10 minutes.
Add juice of half of the lime, and half of the cilantro to the pot. Season with Salt and Pepper to taste. Continue Cooking for 5-10 more minutes.
If the chili is too thick you can add water or vegetable broth.
Meanwhile, take the remaining onion,lime juice, cilantro and mix with the avocado. Do not smash. Season with Salt and Pepper.
Top your chili with the avocado mix and Tortilla Chips.
Serving size: 2 Cups – Serves 4
Calories – 336, Fat 3.5 Grams, Protein 15.5